SIZING GUIDE
This sizing guide is for Gary Fay Creations Articulated Fingers.
Please refer to the instructions below and/or on the Guide to find your correct size for a comfortable fit.
We will create your articulated fingers based on the size of your index finger.
Click here for our Sizing Guide.
How to find your size
Using the above image on your screen, ensure the ruler in the middle of the picture is 100% accurate to your measuring tool. (To do this correctly, you may have to save a copy to your device).
Place your index finger over the sizing chart until you find the best fit.
Your first knuckle should sit inside the 2 points on either side of the guide.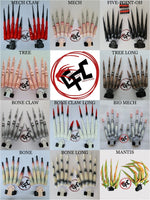 3D Printed Gloves
The current selection of styles available.
The length of the articulated fingers vary according to the size ordered.
Please be aware I sell these as artistic costume pieces so I take no responsibility for any harm you may decide to cause with them or any harm that may be caused by intentional misuse.
Products
ITEMS I CURRENTLY MAKE TO ORDER - Please note all prices are in Australian currency (You can change the currency at the top of the page). All hands are made to order so there is a wait time (also at top of page) however I am currently working day by day to speed this up.